The Grey Roost
Quick Links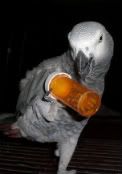 Stirling playing with a bottle filled with uncooked pasta.
The health and wellbeing of your Grey depends on you.
In this section we will touch on some of the information that is valuable to you as a grey owner. I have tried to find the most up to date information and share the knowledge I have to help your African Grey parrot stay healthy and with you for a long time. Please know this information is not to over ride any vet advice/visit. I am not a vet. Just a Grey mom. As Avian medicine changes with the times, and knowledge learned, I will update what I am made aware of.

We ALL need an Avian Vet! Every bird owner should have phone numbers to their avian vet listed in a common place for all family members to see. You should also be aware of and have all contact information of the referral or 24 hour vet your regular vet will send you to if they are not in. Take it one step farther and print out directions and take a dry ride to these places before an emergency happens. When you are faced with an emergency, you are not thinking correctly. That is not the time to be searching for numbers or driving in a strange place. That wastes precious time you might wish to have back. ANY internet forum should be the last place you look for information in an Emergency.